Anchor Personalised Necklace Charms Engraved Your Name 18ct Gold Plated Silver - AMAZINGNECKLACE.COM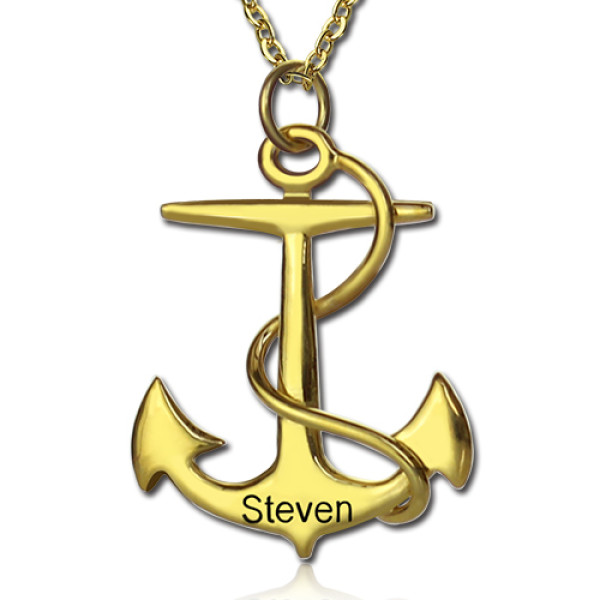 Pendant Size: 2.5cm ~3.0cm /0.98"~1.18" Hook: Single Hook Chain type: Cable Chain Material: 925 Silver Pendant Size: 2.5cm ~3.0cm /0.98"~1.18" Hook: Single Hook Chain type: Cable Chain Material: 925 Silver Amazing anchor name necklace made of sterling silver and engraved with any name you like. This Paris Hilton style anchor charm necklace is perfect anchor jewelry for anchor fans.
The Anchor Necklace Beyond Trends
The anchor is a symbol that in recent times has become a trend. It Is indeed a beautiful sign, but its meaning goes beyond trends and it has deep and old roots. Next we will explore the deep meaning of the anchor and its uses as part of a necklace. After reading this post, you will be fully versed on when to use an anchor necklace. You may find an idea for a gift, or the significance of your own anchors.
The Sea has Strong Links to Anchors
Because of obvious reasons, anchors have been related to sea and sailing activities. They are an important part of sailing ships. Anybody who feels a strong connection to the sea uses anchors as a symbol.
It was common that mariners had tattoos or charms with anchors. Even people from the navy use it as a symbol, making the necklace one of their preferred charms.
Anchors are Symbols of Strength
The anchor is used by the boat to stop it whenever it is in a port. This use is why anchors are a symbol of strength. An anchor must be strong and well-constructed in order to be capable of preventing a boat from moving. Despite the strong force of the sea, when it is anchored, it will not move.
Due to this association, anchors have been used as symbols of strength over time. One of the earliest register of anchors as a symbol of strength was when Christians where persecuted. They used it as a way to recognize one another. It was common to see them tattooed with anchor figures. They would also carry anchors as charms in necklaces.
Nowadays, an anchor still is a symbol of strength. The association to Christians is not officially recognized. However, some people use them to show their faith. Some designs incorporate the cross, which is a more distinctive sign of Christianity than anchors. Those designs are accepted as a symbolism of Christianity.
Anchors for Travelers
When a person is a frequent traveller, then an anchor can symbolize the people he leaves behind. It is a way to remember where is home. The anchor is associated to home because when a boat is at the port, it uses the anchor. Therefore, mariners are at home.
It is common to engrave the name of a person in the anchor when it signifies home. The anchor is a reminder of the place the bearer belongs. With a personalized name, then it has a deep meaning for the anchor owner.
Some people chose to engrave the name of a place. It is usually their hometown, or their birthplace. When a person has no attachment to a place because of his frequent travels, then the anchor is important.
Stability and Security
Another approach for anchors is stability and security. Again, the way they stop boats from moving is what gives them this meaning. They are given to people who bring stability and security. For example, the anchor necklace can be a perfect gift for a father who is the head of the family. His job is to bring stability and security to his family. Therefore, the deeper meaning of the anchor will suit perfectly. An anchor is one of the most popular gift to celebrate fathers day.