Silver Swarovski Crystal Arabic Name Personalised Necklace - AMAZINGNECKLACE.COM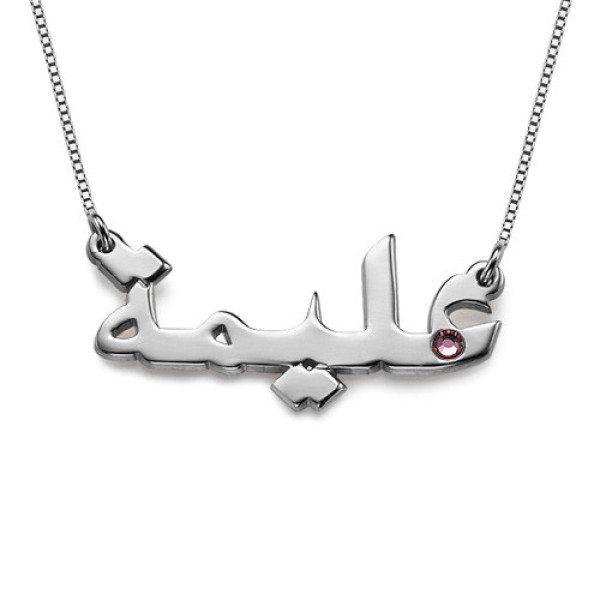 Experience the exotic Arabian Nights with your Personalised Silver Swarovski Crystal Name Necklace. Inscribe your Arabic name in Arabic on this beautiful piece of sterling silver jewellery and glamorize it by selecting a birthstone/favourite coloured Swarovski crystal. This Swarovski necklace with your name in arabic comes with a Sterling Silver (0.925) Box Chain. Please enter your name in English or in Arabic One name or word per pendant. Material: Sterling Silver 0.925 Style: Arabic Name Necklace Thickness: 1.2mm Measurements: 7 - 13mm Chain style: Silver Box Chain Chain length: 35 cm, 40 cm, 45 cm, 50 cm, 55 cm Inscription language: Arabic
They are incredibly popular and perfectly suited to birthdays though. There are so many kinds of styles and pieces that you can find or have easily made for yourself or someone you care about using a birthstone.
Things to know About Arabic Name necklace
Ethnic groups in the world can get involves tin in designing their own jewellery. Arabic name necklace is the most popular and trending in personalised jewellery markets. Arabic jewellery has a long history of the language and achievements of the Arabs. It makes a state of the art gift for any occasion.
Why name jewellery?
Name jewellery is popular and trending for quite many reasons. Jewellery lovers do add accessories to their favorite outfit while dressing up to go out from home. Name jewellery is the best way to step out in style. Personalized jewellery helps you showcase your creativity in a stylish and classy way.
Jewellery is a brilliant way to show off your personality. Name jewellery has become a strong force by using different cultures from around the world. Name jewellery has brought together many ethnic groups with shared joy i.e. name jewellery. All these pieces come in many shapes, materials and sizes. There are name earrings, name rings, name, bracelets, name necklaces and name rings. This is a perfect way to show off your name in a unique way whether you have an Arabic name or not. It is also a unique way to pay tribute to culture

What type of material makes the necklaces?
They are made of materials such as silver, gold and other precious metals. The nature of material used usually determines the cost of the pieces. Gold coated ones tend to be more expensive that the rest. The more expensive they are, the classier they become. Some people even insure their jewellery against theft for their high cost.
How to store your Arabic necklace
If you want your jewellery to last for long, take it off when sleeping. When having a shower, take it off too. For some materials that make this necklaces are corrosive. Thus if they come into contact with water they may react and rust or fade away. You can hand them or keep them in a jewellery box. Avoid touching them with perfume, oil or sweat. This makes them to fade faster.
What to check out for when buying name necklaces.
Select the name of the necklace that you want buy. Make sure that the spelling is right. Choose the desired length of the name necklace. Also check on the types of material you wish to have for you necklace. Check on the quality of the necklace. There are many imitations in the market today. Make sure what you buy if of original quality.
A saying says that you have never know a woman until you have seen her jewellery. Stand out from the crowd by adorning an Arabic necklace. Own these unique pieces that will always make you look stylish and classy. These items too can be perfect surprise gifts. Surprise your loved ones with these unique pieces and be sure that they will always have you in mind. They are perfect gifts for mothers on mother's day, a birthday gift to a loved one.

How to wear the name necklaces
These Arabic name necklaces are versatile and are with almost everything. From, casual wear to evening wear. They are on in any occasion. From tea parties, having a walk in the park. They are worn by people of all walks of life. Rock stars to fashionistas.