Personalised Endless Double Infinity Bangles - AMAZINGNECKLACE.COM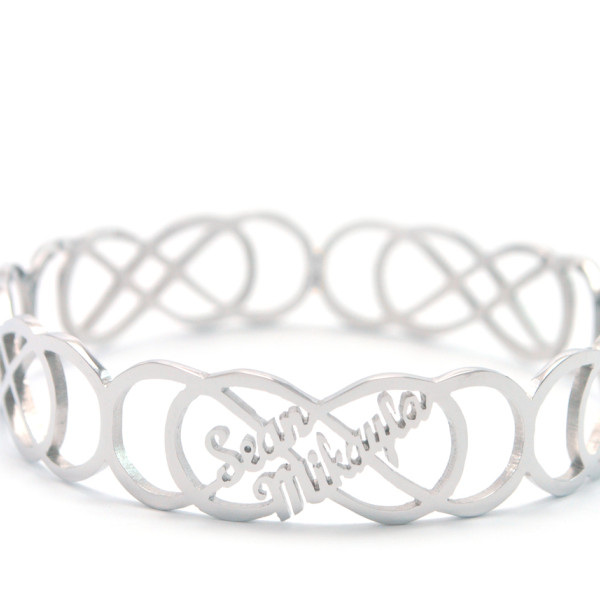 This intricate design is not only hand cut from scratch but it is a symbol of an everlasting bond. You can personalise it with up to 10 names on a double infinity or 5 on a single infinity. Shown in the picture is 2 names repeated in the 5 double infinity so if you have just 2 names or even want to fill the rest with dates or meaningful words, this exclusive design is sure to be a one of a kind. All our pieces are handcrafted and hand cut from scratch.
Tips to take care of while wearing your Double Infinity Bangle
Double infinity bangles are an elegant and modern jewelry option and are a potent symbol of everlasting connection, vitality and energy. They symbolize our past and future that intertwine to create a complex and beautiful pattern. They are a fashionable jewelry option and a sure shot way to spice up any outfit. Double infinity bangles appear stylish for any occasion and they come in many material options like gold, silver and steel. They can be worn alone or stacked together to create a trendy outlook. They are a fun jewelry choice for mothers - daughters, sisters and best friends as they look both cute and trendy. They are generally quite affordable and they give a slightly bohemian kind of vibe when stacked together with other infinity bangles. Some useful tips to be kept in mind while sporting double infinity bangles are:
Do not wear too many double infinity bangles at once
Many double infinity bangles are sold together at affordable prices and therefore, it is a tempting choice to buy many together at once and wear all of them together. However, it is important to wear the bangles in moderation for any occasion. Wearing many double infinity bangles together at once takes away the unique charm and design of each individual piece. Wearing the pieces you like and taking some of them off for going outside is recommended. When worn together with other jewelry items, the double infinity bangles should be kept minimal so as not to make the rest of your outfit overwhelming.
Engaging with different designs and colors
It is important to avoid homogeneity while wearing double infinity bangles. Wearing bangles with different designs and colors are a stylish option to create a unique look, so uniformity and consistency is not always a good fashion choice. However, it is recommended to wear infinity bangles of similar color tone and temperature for creating the best look. Also, when you are wearing a bright colored outfit, go for cooler and sober colored double infinity bangles like silver and light colored tones and support jewelry of red or deep colors with gold double infinity bangles to look your very best.
Take care of the size of your double infinity bangle
Double infinity bangles are available in different sizes. There is a possibility that smaller sized bracelets can become invisible when layered together with bracelets that are larger. And the double infinity bangles that are larger in width should be worn alone. It is also advised for dressing purposes to group your double infinity bangles according to their size in different sets so that dressing up takes less time. It is therefore necessary to carefully size up your double infinity bangles before buying them.
The everlasting appeal of an Endless Double Infinity Bangle and how to carry it off with style
The endless double infinity bangle is truly one of the most unique and beautiful personalized piece of jewelry today and is one of the most popular fashion trends currently. It has a lot of meaning attached to it as it symbolizes everlasting and eternal love and is also a sign of empowerment. Different people attach different meanings to it, some could portray it as a sign of women empowerment while some and some could see it as sign of limitless possibilities and endless love for someone. It can be personalized with names as well as meaningful dates and words, therefore making it a one of a kind jewelry piece. The double infinity symbol represents a sense of permanence and wholeness in many different beliefs and cultures. This symbol is utilized often in Celtic knot pattern which has no ending or beginning, very much like the double infinity symbol. The Celtic cross design is also based on the symbol of infinity and is a representation of endless spiritual love. The infinity symbol can also be found in tarot cards, used for fortune reading, as a depiction of endless power and possibilities. There are also signs in the ancient culture of Egypt of a snake that bites on its own tail similar to the infinity sign, showing perfectly the everlasting circle of ends and beginnings and that it is not possible for one to exist without the other.